Infant/Toddler
Infants / Toddler New Jersey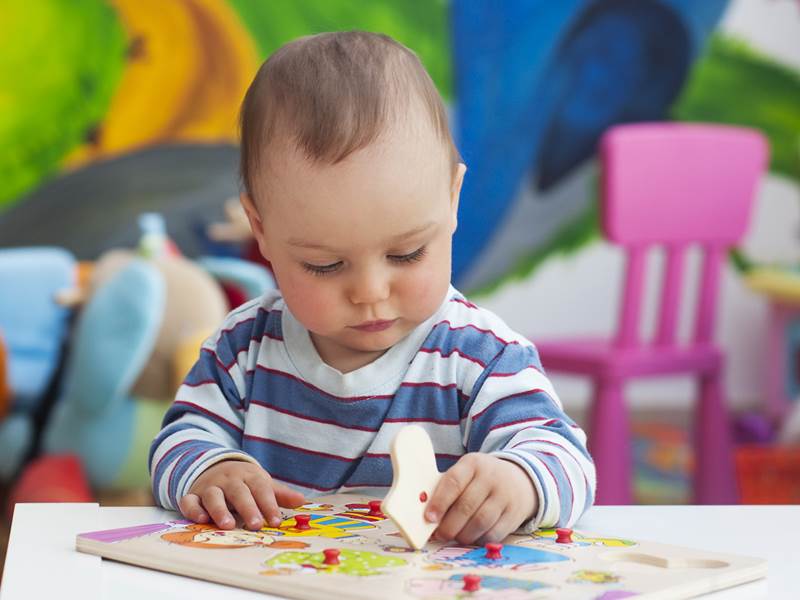 At STEM, we love our infants!
From tummy time to rolling over, sitting up, pulling up, crawling, balancing and eventually WALKING!!! Our infants have so many milestones they accomplish in such a short period of time! Our infant teacher interact with the children throughout the day which promotes security and a sense of respect. Our teachers along with the parents rejoice in the children's meeting of their milestones.
With a curriculum-driven Toddler/Infant program, you will notice the concentration on important developments such as gross motor (ie. tummy time), cognitive (ie. object permanence), fine motor (ie. reaching towards toys and other classroom objects), social/emotional (ie. expressing feelings through early language), self-identity and language skills (ie. personal and individualized communication using names). They will be encouraged to explore their world with hands-on activities. Language is very important and crucial as your child learns the early stages of speaking. We encourage children to babble and coo by singing songs, and promote vocabulary growth and development by conversing about what they are doing, their environment and initiating small talk with other children and teachers.
Our classroom follows a 1:4 teacher/student ratio. Your litte one will enjoy a warm and nurturing environment with experienced caregivers. He or she will be greeted each day by loving teachers ready to help them thrive and grow with conversations rich in vocabulary. Our infant teachers work together to ensure every child receives care that will nurture your child and support their social/emotional development. We strive to make your child feel welcomed by creating a positive emotional bond, making them comfortable and happy while in our care.
Our main goal with our families is to build a trusting relationship that will support the growth and development of your child to help them reach important milestones. We happily encourage open communication with all of our families! Parents will receive pictures and videos throughout the day through the Tadpoles application. This is where you will receive your child's daily report on feeding times, nap time, diaper changes and any activities for that day. Infant parents are always welcome to call throughout the day to check in, as needed.
Infant Checklist on What to Bring!
Label All Items
Label and Date all Bottles and Food
One full pack of diapers (30 diapers or more per week)
Two boxes of Wipes or more
Diaper Cream (if needed)
Bibs
Three Extra Sets of Clothing - don't forget the socks! (seasonally appropriate)
Baby Food and Snacks in a non-glass containers
Pre-Made Bottles (enough according to your child's schedule plus 1 extra as a backup)
Sippy Cup Filled with Water
Pacifiers/Binky (if needed)
Two Crib Sheets
Spoons, Forks, Bowls, etc.
Family Photo
Infant Daily Schedule
Infant/Toddler New Jersey schedules are flexible and adjusted per the parents' request. This daily schedule is designed to enrich the infant's developmental skills and prepare them to move on to the next stage of development. We ask that each parent provides a daily schedule for their child and include information like feeding and napping schedule, any health conditions, likes and dislikes and favorite songs and/or books.
Daily Schedule for Infants (12 months – 18 months)
7:00-9:00 Breakfast/Bottles
8:30-9:00 Diaper Changes
9:00-10:00 Morning Activity/Playtime (includes fine and gross motor skills, story time)
10:00-10:20 Morning Snack/Bottles
10:20-11:30 Morning Naps (as needed) - Indoor/Outdoor Play
11:00-11:45 Diaper Changes
11:45-12:30 Lunch - Bottles
12:30-1:00 Diaper Changes
1:00-2:40 Afternoon Naps
1:00-2:40 Playtime (sensory, cognitive skills, tummy time, finger play)
2:40-3:00 Afternoon Snacks
3:00-3:30 Diaper Changes
3:30-5:00 Afternoon Activity & Playtime
5:00-pick up Diaper Changes
Toddlers
Toddlers Group 1 (18 months to 27 months)
Toddlers - the original explorers! Toddlers learn best where they can explore with freedom and independence. Their curiosity and imagination creates learning boundaries in its own way and our caregivers are the facilitators to help the Exploring Teddies learn and grow independently. Baby Language communication progress to simple instructions in Toddler Room. Music, Dance, Actions, Alphabets, Counting, Art bring learning experience to another level through fostering social skills, encouraging independence, cognitive and motor skill development. Our hands-on learning activities for our Exploring Teddies enhances children's five senses of taste, sight, touch, smell, and sound allowing them to be grow confident and encouraging their language development.
In our toddler room we try to see things through their eyes, so we do spend a lot of time sitting with them and interacting with them at their level. Their world is filled with adventure , excitement and testing their limits is key to their learning and growth. We expose them to experiences that they will carry with as they grow. We use creative learning methods to enhance the imaginative mind in Toddlers through -
Telling stories in different ways , using puppets , drawing pictures , acting the story out are all ways to express an idea to a toddler .

Sitting with them at lunchtime asking them about their food helping them hold a spoon and encouraging them to eat their lunch to be healthy and strong are just a part of our day.

Dancing and singing song not only promote social and emotional and gross motion skills , it also brings so much enjoyment to the toddlers.

The best part of the day would be interacting at playtime , asking them questions , teaching them through play.

Being an entertainer/educator, making them smile and laugh and watching them learn in the process is a remarkable thing to be apart of
Toddlers Group 2 (28 months to 36 months)
This is the room for children who are transitioning to an independent child who understands instructions and follows them with help from the CareGivers. This age fosters friendship and emotional bonding. Feels excited when they recognize their names with alphabets, jumps in the count of numbers, follows the dance actions, laughs at things that are silly, tries to climb and balance themselves, express in few words that they do not want to eat, or want to sit next to friend. Knows to ask where is the teacher when she leaves the room. This stage they learn independence in eating themselves using spoon, cleaning toys and stacking properly, wearing jacket themselves, laughing at funny stories.
Toddler Group Checklist on What to Bring!
Label All Items

Diapers or Pull-Ups

Wipes (two small refills of wipes or one large huge refill bag)

Diaper Cream (if needed)

Three Extra Sets of Clothes and Shoes, if potty training. At least one set for those still in diapers. (seasonally appropriate)

Lunch and Snacks in non-glass containers.

Smock or large old shirt for messy play.

Sippy Cup Filled with Water

Spoons, Forks, Bowls, etc.

Family Photo
Daily Schedule for Toddler New Jersey(18 months - 36 months)
7:00-8:00 Arrival/Table Activities

8:30-9:00 Breakfast/Hand Washing

9:00-9:15 Diaper Change/Potty Training/Pull-up Changes

9:15-9:30 Circle Time/Language Arts/Story/Finger Play

9:30-10:00 Choice Time/Arts Activities

10:00-10:15 Hand Washing/Potty Training

10:15-10:30 Morning Snack

10:30-11:00 Outdoor Learning/Indoor Large Motor Activity

11:00-11:15 Hand Washing

11:15-11:45 Thematic Activity

11:45-12:00 Diaper Change/Potty Training/Pull-up Changes

12:00-12:30 Lunch

12:30-3:00 Nap Time/Quiet Time

3:00-3:15 Diaper Change/Potty Training/Pull-up Changes

3:15-3:45 Afternoon Snack

3:45-4:00 ChoiceTime/Story/Finger Play

4:00-4:30 Table Activities

4:30-5:00 Outdoor Learning/Indoor Large Motor Activities

5:00-5:30 Evening Snack

5:30-6:30 Carpet Activities/Goodbyes